8th birthday for Raw Metal Corp
Raw Metal Corp has reached another milestone celebrating its 8th birthday this July. It has been a momentous year with the opening of our North Queensland headquarters in Mackay and planning is well underway for a doubling of capacity at our Wacol yard.
Todd Wanless, founder and owner, and Brett Crosby, General Manager, would like to take a moment to thank the incredible staff they have working in the Wacol and Mackay yards, in the office and the weighbridge, on the machines, the transport drivers and the sales team. They have all put in a huge effort to produce another successful year for Raw Metal Corp.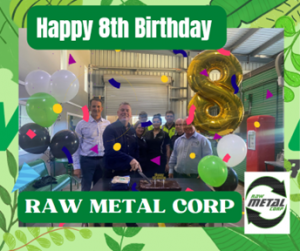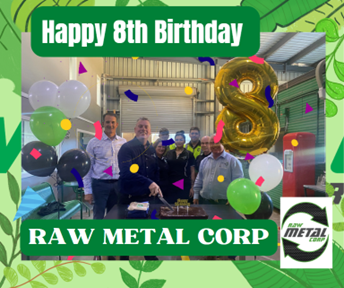 Thanks must also go to our wonderful customers, big and small, who have supported Raw Metal Corp from the beginning, eight years ago. It has been exciting to watch our customers grow over the years and continue to be part of the Raw Metal Corp family. We do pride ourselves on our customer service and believe that building strong, trustworthy relationships has been key to our success.
A highlight for us over the past year was the opening of our Mackay yard – the only scrap metal shredder in North Queensland. A gamechanger for scrap metal recycling in the north and we are excited by the opportunities that have opened to Raw Metal Corp as a result.
Our café continues to prove popular with local businesses and staff alike with its easy access and wide-ranging menu and of course great coffee! It has proven to be a great meeting place for local businesses, customers, and staff alike.
Our FREE kerbside scrap metal pick up service continues to flourish with a second truck added to the fleet to manage the growing demand for householders wanting to recycle their old household metal goods like fridges, freezes and trailers and trampolines. You call us and we will come to you.
Reinvestment in the business has always been a priority and we now run an almost exclusive fleet of Sennebogen machines, Komatsu forklifts and Bonfiglioli recycling equipment. This level of commitment by Todd and Brett is testament to the future they see in metal recycling and the importance of doing it to the best possible standards.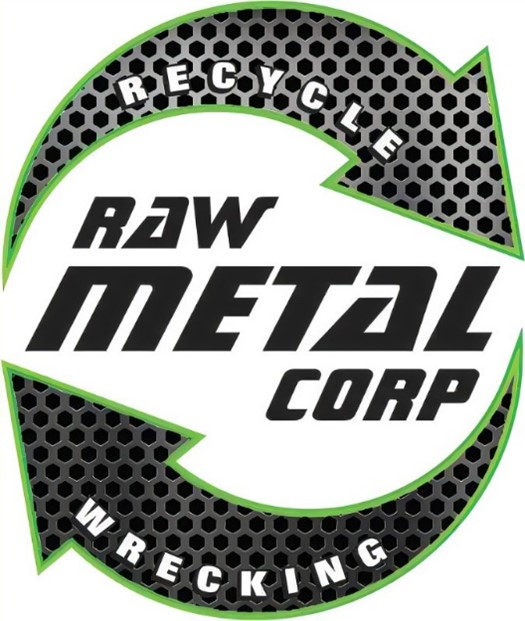 Our trading hours have grown to Monday to Friday 6.30am to 4.30pm and Saturdays 6.30am to 11.30am to give our customers every opportunity to bring in their scrap metal big and small. Providing scrap metal bins to customers work shops and warehouses and collecting bulky items with our fleet of trucks keeps us on out toes and our focus on great service.
Raw Metal Corp looks forward with great excitement at the prospects of the next few years and being at the forefront of the recycling industry in Australia.