About Raw Metal Corp
Raw Metal Corp is a metal recycling company started in Wacol, Brisbane and now servicing North Queensland from our Mackay yard. We are now one of the largest scrap metal recyclers in Queensland and we have grown substantially since we commenced operations in 2014. We now employ over 100 workers state-wide and continue to build our team and our services.
Since we started, our priority has been to provide individuals and businesses with honest and reliable service. We provide a wide variety of metal recycling services and offer the best prices we possibly can. We continue to invest heavily in the business to ensure our processing and material handling is world class and we have been attending metal recycling conferences around the world to keep abreast of the constantly changing recycling technology.
We use the most up to date environmental recycling practices to ensure we recycle, reuse, and repurpose as much of your scrap metal as possible. Using our fleet of Sennebogen machines, Komatsu forklifts and excavators and Caterpillar machines we have all the equipment onsite to get the job done. Efficient recycling is an important part of our charter, and we aim to prevent as much ferrous and non-ferrous metals ending up in landfill. Raw Metal Corp is committed to keeping our country beautiful.
Honest and Reliable
As a privately owned and operated business we take the greatest pride in everything we do. Its our personal reputation on the line and that counts to our honesty and reliability.
Pick-Up & Removal
As one of the largest scrap metal buyers in Queensland, we offer a scrap metal collection service paying top dollar for scrap metal and cash for cars. Our pick-up and removal service covers all Mackay and beyond. With our fleet of Westrans and Isuzu trucks combined with scrap metal bins supplied by Tefco Trailers, Toro Waste Equipment and ACT Bins & Sheds removing your scrap metal is simple.

Safety Certified
Raw Metal Corp takes the health and safety of our employees and customers very seriously. As a member of ISRI, BIC and WRIQ we follow local, state, federal and internationally recognised safety guidelines in the operation of our metal recycling facility.

Environmentally Ethical
Recycling your scrap metal makes sense economically and you or your company is making a positive contribution to looking after the environment as well. Our scrap metal recycling processes ensures that almost all the scrap metal we collect is recovered and recycled and repurposed. A green tick for your business.
Here at Raw Metal Corp, our Mission is to 'maximise
recycling & minimise landfill'
Our trusted employees passionately believe in and strive to uphold the following agreed values:




Why Is Recycling Important?
Reuse existing materials
Reduce impact on the planet and environment
Lower greenhouse emissions
Lower our carbon footprint
Minimise landfill
Honest and reliable service
We pay cash
We pay top dollar
You get a price upfront
Free pick-up
We recycle almost everything
We offer personalised service
We strive to be the recycling partners of choice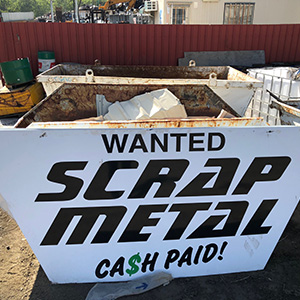 About Raw Metal Corp
Raw Metal Corp is a metal recycling company based in Brisbane and servicing South East Queensland. One of the largest metal scrap yards in Brisbane and the surrounding areas, we commenced operations in 2014 and now employ over 20 workers. Since our establishment, we have made it our priority to provide business and individual customers with a variety of essential metal recycling services and to offer the best scrap metal prices.
At our scrap metal yard in Wacol, we use environmentally-responsible recycling practices to ensure as much of your scrap metal is salvaged and can be reused. Effective recycling is an important part of what we do and we aim to prevent as much of the ferrous and non-ferrous metals we buy from ending up in landfills that contaminate our local environment. Raw Metal Corp is committed to keeping Brisbane beautiful.
If you're looking for Brisbane scrap metal recyclers offering cash for cars and cash for scrap, look no further than Raw Metal Corp. Whether you're looking to dispose of your old domestic appliances, a written-off car or you're searching for a lucrative means of disposing of commercial or industrial metal waste, please get in touch.
They are fast and helpful here. I take all my scrap metal here for a few extra dollars. Today I got 30 bucks extra for what could have got with others scrap metal dealers. Just park and carry your bags to the weigh station, then a worker will weigh them out fast. He hands you a receipt then wait in line for 3 minutes. Show the lady cashier your receipt and she trades it for money. And you did something good for the Earth. 🙂 happy earth happy me
– Heena Sharma

Todd and His Team at RAW METAL have done really well over the last few years. Building a business from scratch is not easy but they are really pushing the limits and have developed a great Scrap Metal facility. I would recommend to try them out as their prices are very good.
– Ben Rayner

My business and I have used Raw Metal Corp for our metal recycling needs for many years now and they have always been the easiest company to deal with. Our Rep has always been completely transparent and has always kept us in the loop regarding prices. They help us out with bins, transport and are always more than happy to assist with our annual clean ups. Highly recommend these guys, a very professional company with their own personal touch.
– Jane Simmons

Wonderful and Helpful Staff.
The men in non-ferrous were more the helpful in showing the product differences and types.
Couldn't have asked for a better experience.
– Paj

Customer service was excellent, service was quick, we even got a free bottle of COLD water !!
– Jennifer Robbie

Sent an Email request to Raw Metal Corp and within minutes were phoning me back. Their agent was more than obliging to assist with our scrap & vehicle removal.
Thank you Amy at Raw Metal Corp
– Randolph White

Good yard Ian is always great to deal with always.
– Wayne McConachy